Within the boundaries of
Hearst San Simeon State Park
are Santa Rosa Creek Natural Preserve and San Simeon Natural Preserve. Santa Rosa Creek Preserve is an area of approximately 40 acres, which includes valuable riparian forests and coastal wetlands, that provide habitat for endangered Tidewater Goby. San Simeon Natural Preserve consists of approximately 365 acres of vast wetlands, riparian areas, and several undisturbed native plant communities including unique mima mound topography. The Natural Preserve is also the wintering site for monarch butterfly populations. In 1994, a 3.3 mile trail was constructed encircling portions of the San Simeon Natural Preserve and the Washburn Campground. The trail includes scenic overlooks, rest-stop benches and interpretive panels with information on wildlife and habitat. A portion of the trail along the seasonal wetland is wheelchair accessible.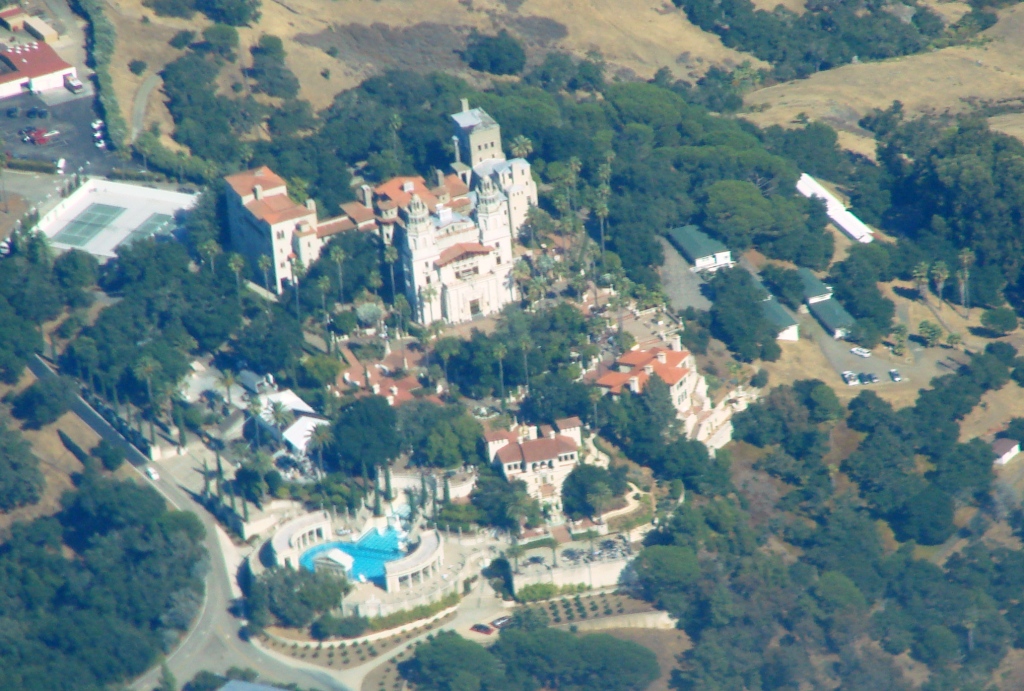 Hearst Castle
William Randolph Hearst told architect Julia Morgan in 1927 that he wanted to built "a little something" on the California coast. Eighteen years later, Casa Grande (commonly called
Hearst Castle
) crowned La Cuesta Encantada, Hearst's "Enchanted Hill" above tiny San Simeon. It's a 165-room Moorish castle with 127 acres of gardens, terraces, pools and walkways, furnished with Spanish and Italian antiques and art, flanked by three large guest houses. In its heyday,
Hearst Castle
had a zoo, tennis courts and two magnificent swimming pools.
After Hearst died, family fortunes declined, and they gave
Hearst Castle
to the state. Today the state Park Service preserves
Hearst Castle
as a State Historical Monument, and we can all enjoy a glimpse into the Hearst's opulent lifestyle.
Recreational activities
include camping, picnicking, hiking, fishing, surfing, beachcombing, bird watching and whale watching. The Junior Ranger Program is a regularly scheduled interpretive program for children. Interpretive walks of the San Simeon Trail may also be available. Information regarding the locations and scheduled time of interpretive programs is available by calling Hearst San Simeon State Park at (805) 927-2035.
Location and Reservation Information
Hearst San Simeon State Park is located 35 miles north of San Luis Obispo on Highway 1, and 5 miles south of the Hearst San Simeon State Historical Monument Visitor Center.The community of Cambria is located 2 miles to the South and offers gas stations and grocery stores. Campground Reservations can be made from March 15 to September 30 by calling 1-800-444-PARK (7275). The rest of the year the campground is open on a first come, first serve basis.