Downtown
Sunset HB
Huntington Beach California
is the ultimate surfer's paradise. The eight and a half mile long stretch of beach in this city of about 200,000 south of Los Angeles is lit up at night with campfires.
Small circular barbecue pits dot the beach for miles and the locals love to sit beside them, casting an eery glow on their faces as you drive by on the seaside Pacific Coast Highway.
Nowhere else in California's long coast can you legally build a campfire and sit by the warm glow like this.
The waves are steady, and just about perfect for riding. And the surf breaks pretty far out, so when you catch a wave, you're in for a long ride to shore.
Huntington Beach
is an Orange County, California beach community located in sunny, Southern California just 125 miles or so from the Mexican border. Next to The OC (
Newport
Beach) and Long Beach with its convention services along the coast, Huntington's bedroom community has always been a destination, but has transformed into a modern destination now with more things for tourists to see and do, and more places to stay at the beach.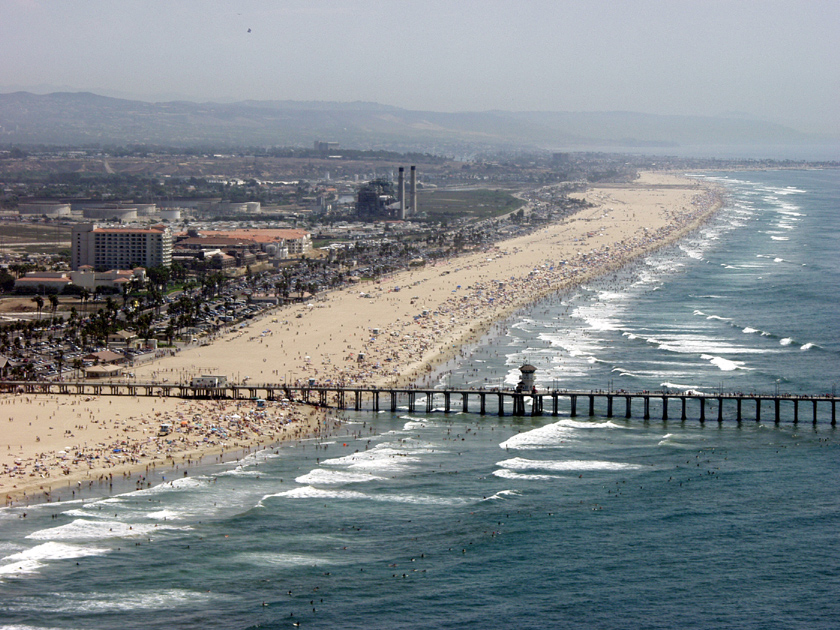 Huntington Beach Pier, and a Million People
Dining: Possibly the outdoor capital of dining in Orange County, you'll enjoy the countless options for a la carte and al fresco, and discover that sunshine or clouds never dampen the spirits of those sipping on cocktails

and eating foods in this mellow beach town.