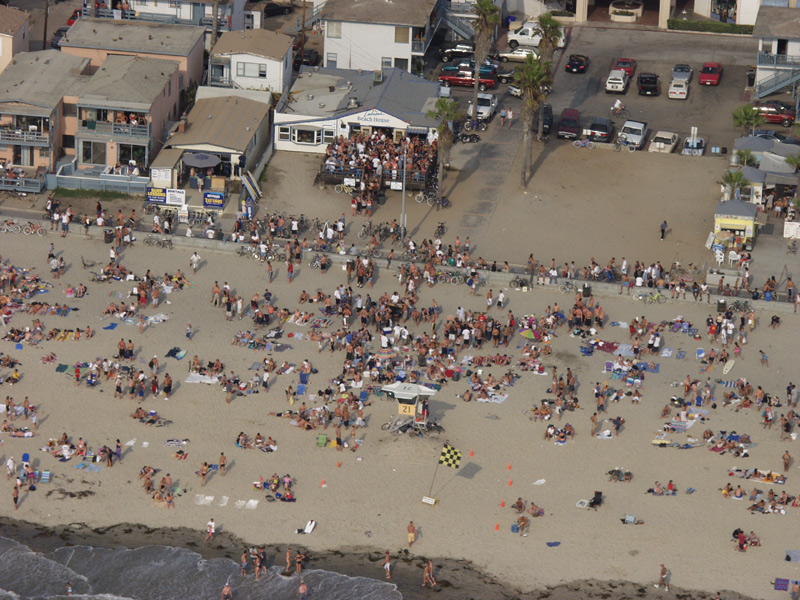 Newport Beach Web Cam
Newport Beach includes more than eight miles of beaches that stretchfrom the Santa Ana River jetty to Crystal Cove State Park and border Newport Bay. All ocean and bay front beaches are open to the public from the hours of 6 a.m. until 10 p.m. Crystal Cove State Park beaches close at sunset.
Beach Conditions
Beach Conditions can be obtained by going to our
Portable Barbecues
Portable barbecues are not allowed on any City beaches. Fire rings and public barbecues are available near the Balboa Pier and at Corona del Mar State Beach from 6 a.m. to 10 p.m. on a first-come, first-served basis.
Piers
There are two piers located in
Newport Beach
. The Newport and Balboa Piers are open from 5 a.m. until midnight. Restaurants are located on both piers and their hours may vary. Public restroom facilities are available at the base of both piers.
Beach Wheelchairs
Wheelchairs that are capable of going on the sand, can be obtained at the Newport Pier and in Corona del Mar. The chairs are available on a first come, first serve basis and cannot be reserved. To determine availability, please call 949-644-3178.
Dogs on the Beach
Dogs are never allowed on the beach or any beachfront sidewalk between the hours of 10:00 a.m. and 4:30 p.m., including the ocean front beaches and bay front beaches.
Before 10:00 a.m. and after 4:30 p.m., dogs are allowed, if they are securely restrained by a substantial leash or chain not exceeding six feet in length and controlled by a person who is competent to restrain the dog.
Please be aware that the person having control of the dog must have in his or her possession, an implement or device capable of removing any feces deposited by the animal
For further information, call the Animal Control Unit at 644-3717.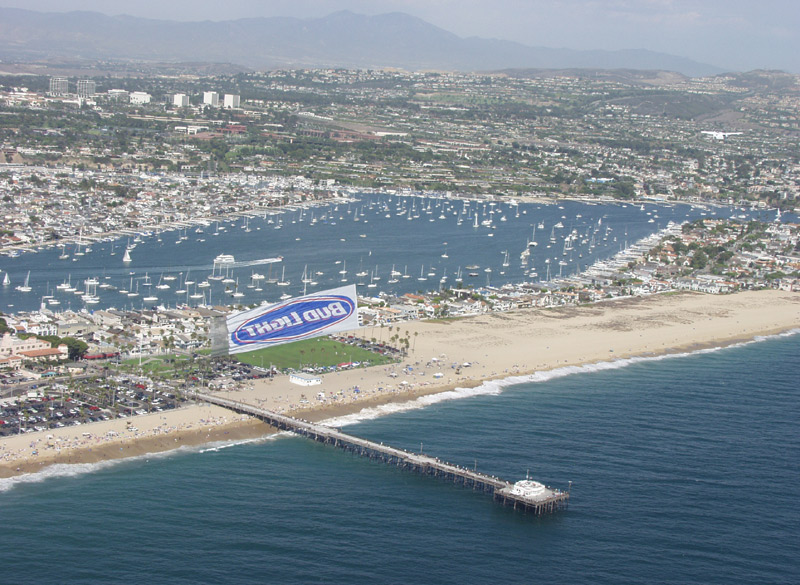 NewPort Beach - Balboa Pier - Orange County
Newport Beach
is like a French Impressionistic painting--it's a magical place with views so stunning, they hardly seem real. Like the Rock of Gibraltar or the French Riviera, cars line up on weekends filled with visitors seeking opportunities to share the dream on a five mile stretch of land referred to locally as the
Newport
or Balboa Peninsula. Intimate sand beaches, a jetty called "The Wedge" where surfers test their skills, two piers, the Fun Zone, Balboa Pavilion, Newport-Balboa Ferry boat, harbor cruises, boat rentals and
trips
to Catalina Island are but a few of the attractions for people of all ages.
Newport Beach contains seven islands and are some of the most expensive real estate in Southern California. Homes costing $2 million and up are surrounded by one of the world's largest small yacht harbors. Balboa Island is the largest.
Lido Isle
with Lido Marina Village, shops, art galleries, boutiques and boardwalk cafes plus Little Balboa Island, Linda Isle, Collins Island, Harbor Island and Bay Island make up the man-made harbors and lands that rank among the most expensive in Orange County
Crab Cooker Restaurant and Fish Market
The Crab Cooker, Newport Beach California
Newport Beach Pier