Monterey
This seaside city was California's first state capital, boasting historic adobes and California's first theatre, Monterey seamlessly blends past and present to create a unique travel experience. While in town, be sure to visit the one of the world's foremost examples of oceanic life at the
Monterey Bay Aquarium
or enjoy shopping and dining on John Steinbeck's
Cannery Row
, as well as historic
Fisherman's Wharf
. Your visit is not be complete without enjoying the white sands of Monterey State Beach or taking a whale watching trip through the Monterey Bay Marine Sanctuary. Monterey is the perfect destination for a romantic getaway or a family-fun adventure. Whatever type of travel experience you are seeking, it all can be found in Monterey.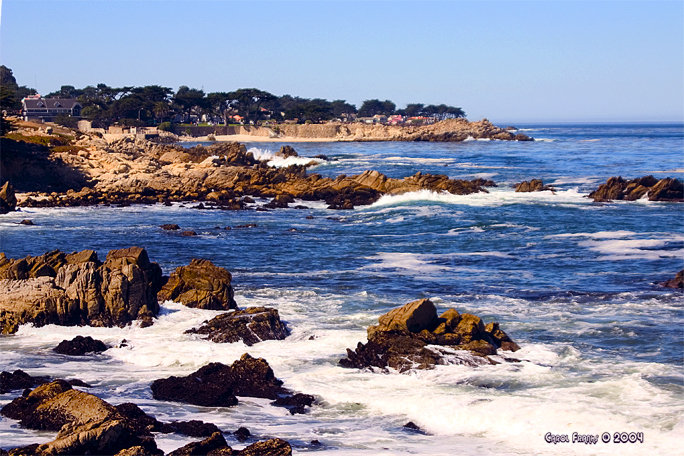 Cannery Row
John Steinbeck immortalized Doc Rickets' Lab in his historic novel
Cannery Row
. Formerly the site of the lucrative sardine canning industry in the early 1900's, the spirit of this area lives on and is honored throughout the "Row." Restaurants, hotels, art galleries, world-class shopping many of which are housed in restored canneries, await visitors. With the Monterey Bay Aquarium as an anchor destination for the area,
Cannery Row
offers something for everyone! This bustling area of the Monterey Peninsula is just as busy during the day as it is throughout the evening. In the evenings, live music fills the streets as visitors and locals alike of all ages have their choice of a bevy of restaurants, cafes, candy shops, bustling
pubs
and
breweries
, as well as late night hot spots.
Fisherman's Wharf
Originally built in 1870 to accommodate the growing passenger and freight service into Monterey Bay, then converted to handle the rapidly expanding sardine canning trade,
Fisherman's Wharf
continues to delight locals and visitors alike. Wander the wharf and listen to the music of the chowder barkers and sea lions, as award-winning restaurants, candy confectionaries and souvenir shops display their wares. A true reflection of the rich history of the Monterey Peninsula,
Fisherman's Wharf
is a "must-do" during your visit and don't forget to try their famous salt water taffy!